Service inflation is difficult to eliminate and has affected inflation. Paul will talk about it.
By Wolf Richter for WOLF STREET.
The various components of the PCE price index are what the Federal Reserve maintains when explaining its reasoning behind suppressing inflation. They include overall PCE, but in particular core PCE (which excludes the volatile food and energy components) and, more recently, services PCE, where inflation has now fully moved in, and from which it is very it's hard.
On a monthly basis, core PCE and service PCE accelerated again in December due to higher service prices. On a year-over-year basis, PCE services remain near multi-decade highs.
PCE price index for services It jumped 0.5 percent in December from November, the biggest jump since September, the Bureau of Economic Analysis reported today. There's no indication here that PCE services are pulling back or hitting a tipping point in the uptrend or anything else. Service inflation has become a horror show.
On a year-over-year basis, the PCE price index for services rose 5.1%, as in November. It is now above 5% for the fifth month in a row and shows no signs of slowing. This reflects the CPI for services released on January 12, which reached its highest level in four decades.
This unruly inflation in services is a source of frustration for the Fed's inflation crackdown—and it continues to play out in Powell's comments.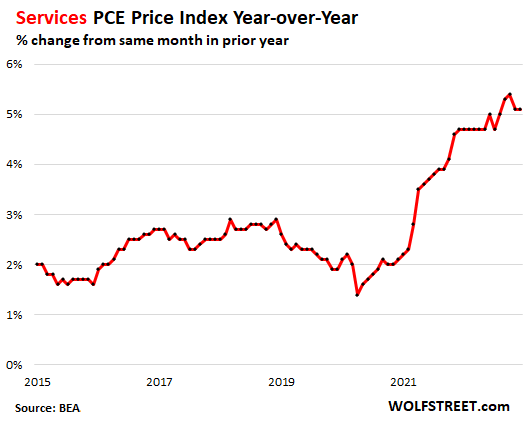 But the price of goods is decreasing.
The PCE price index for durable goods — new and used vehicles, appliances, furniture, etc. — fell 0.3 percent in the month, the third straight month of monthly declines, but the decline was narrower than the previous month. (-0.8%).
The PCE energy price index fell 5.1% last month and has now fallen in five of the last six months. The energy index has decreased by 8.3% compared to last year.
PCE prices for food prices eased to a 0.2% increase in the month, but were still up 10.6% from a year ago.
The PCE price index for goods overall fell 0.7% on the month: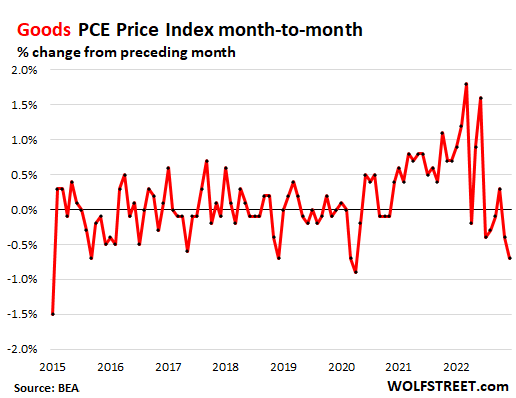 Year-over-year, the PCE price index for goods has declined with month-over-month declines. In December, it was up just 4.6 percent from a year ago, the smallest annual increase since May 2021.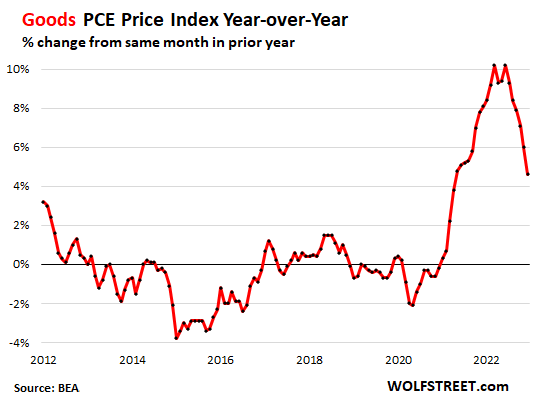 So we can see what's happening with inflation here: goods inflation is pulling back, with some goods components falling sharply, but services inflation is rampant and not abating at all.
Core PCE accelerates again. On a month-over-month basis, core PCE, excluding food and energy, rose 0.3% in December, compared with 0.2% in November. This type of reversal is exactly what Powell warned about when he said, "Down months in the data have often been followed by rebounds." For sure: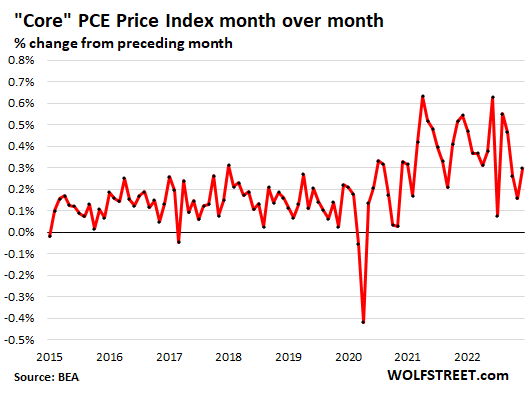 On a year-over-year basis, the core PCE price index rose 4.4 percent, down from 4.7 percent in November, driven by a slowdown in durable goods inflation that continued to outpace hot services inflation: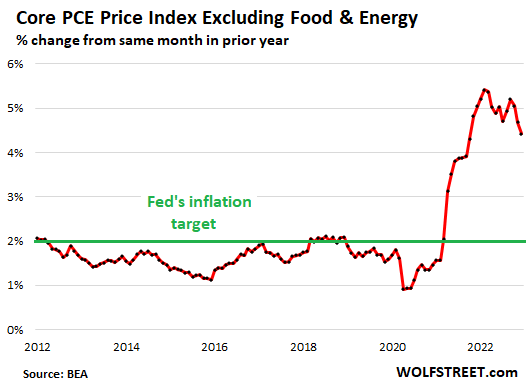 Enjoy reading WOLF STREET and want to support it? You can donate. I appreciate it immensely. Click on the mug of beer and iced tea to find out how:

Would you like to be notified by email when WOLF STREET publishes a new article? Register here.